"Free yourself from Addictions, Attachments and Vows", 03-04-05-06 March 2020, Athens, Greece, a seminar by Goran Karna
Free Yourself from Addictions, Attachments & Vows – A ThetaHealing Elective Seminar
Dates
03/03/2020 10:00 am - 5:00 pm
04/03/2020 10:00 am - 5:00 pm
05/03/2020 10:00 am - 5:00 pm
06/03/2020 10:00 am - 5:00 pm
Daily Schedule
10.00 – 11.30   1,30  hours Class
11.30 – 11.45   15 break minutes
11.45 – 13.15   1.30 hours class
13.15–  14.30   Lunch Break  1 hour and 15 minutes
14.30 – 17.00  2, 30 hours Class (perhaps with a small break between)


* On the first day doors open at 9.00 am, come at 9.00 am for registration, class starts sharply at 10.00 am.
The other days doors open at 9.30, come at least 15 minutes before class.
Theta Innerplace - Θήτα Χώρος
Gounari and Aristidou 27 (1st floor), Glyfada 16674, Athens, Attiki
1) Total seminar cost: 430 €
Trainer Fees: 380 €
Organizer cost: 50 €
The cost of the seminar is a total of 430 euros.
The € 380 is the instructor's tuition and is paid either on the first day of the seminar at the venue or directly to Goran Karna at the paypal link below here:
2) The cost of the organizer is 50 Euros and is paid as a deposit
at the account or the paypal button below. Your registration will not be valid unless the deposit is paid in advance. The deposit will not be refundable if you cancel the seminar.


EUROBANK
MariaTelidou
Bank account: 00260107210100913071
IBAN: GR0502601070000210100913071
BIC:ERBKGRAA
After your registration and payment a confirmation email will be sent to you within 2-3 working days. Please look at spam folder as well. If you do not receive confirmation within 3 working days contacts us.
3) Please register well in advance to ensure smooth flow of the seminar.
4) Goran will be talking in English and Maria will be translating in Greek
5) Maria Telidou is the host of this seminar and the translator, for all information and your requests please use our contacts.
6) If you need to share accommodation let us know to brink you in contact with others. On our website to give you some suggestions about accommodation regarding hotels. Click the "contacts us" on the menu to see the hotels. Click the "contacts us" on the menu to see the hotels. However there are many Airbnb in the area.
7)The venue has a lot of cafe-bakery-restaraunts-groceries-supermarkets just next to it.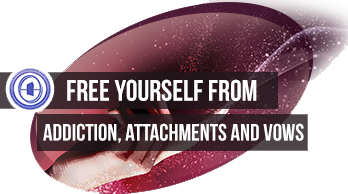 Requirements:
Basic DNA,
Advanced DNA,
Dig Deeper

You will receive:

Manual
Certificate from THINK certifying you as "Free Yourself from Addictions, Attachments & Vows" ThetaHealer
When one mentions the word addiction, the first association is generally an addiction to certain substances such as alcohol, nicotine or drugs. But there are other kinds of addictions that we are not aware of at first glance, for example, addiction to certain feelings, addiction to success, work, money, conflicts, addiction to praise, exercise, facebook, etc. Do you know that when we are addicted, we are not free, we are conditioned by something or someone we are addicted to? Would you like to liberate yourself from it and be free? Would you like to know the difference between addiction and love, fear, feeling of guilt…? Would you like to know how to heal people from addictions and help them to change their life?
Would you like to find out which programs are stored in your chakras that are blocking their proper functioning and how to open your chakras to their full capacity or which feelings causing your brain  chemicals to be unbalanced. If our  brain  chemicals and their receptors are not in balance, we can be prone to many disorders and diseases, such as ADHD, obsessive behavior, PMS, depression and even cancer and other diseases like Parkinson's, Alzheimer's disease, bipolar disorder, etc.
Do you know reason why our aura picks up various negative energies and vibrations and how to make our aura much stronger? Would you like to find out how  to minimize losing our energy  and soul fragments and stop giving them to others unnecessarily?
There are many positive meanings of attachment but we will use yogic meaning in sense that attachments  are  obstacles in the spiritual growth. What does it mean in yogic practice to be attached to someone or something? It means that we do not know who we are without it, and we often cannot imagine our lives without the thing or a person we are attached to. Also, the attachment does not allow new, fresh energies to enter our lives.Attachment can be a limited form of communication, business or partner relationship, or spiritual development. The fact is that we can also be spiritually attached, as well as emotionally and mentally, not just to material things or people, but also to things like planes of existence, secret teachings or societies of the Fourth and the Fifth Planes of Existence, our soul family, the pain and suffering of our parents, nation, ancestors, …
Vows, commitments, contracts, agreements, promises, obligations, bans and oaths follow us from one life to another whether we like it or not, and we are very rarely, during our evolution, given a chance to get rid of them. The fact is that we do not even know how many vows and commitments we have made (or have taken over from others – our mother, father, ancestors, nation, soul family, …), nor are we aware of the burden that we carry on the history level, soul level and even the genetic and core levels.
This workshop is a modest contribution to freeing ourselves from all these constraints and broadening our consciousness.
Subscribe to our newsletter
Join our mailing list to receive our news.