Maria Telidou was born in Athens in 1971 and is a professor of Physical Education and Sports, a graduate of the University of Athens. She has worked for 6 years as a P.E teacher in Greece and England. Since 2000, for the next 10 years, she has lived in India as a volunteer in the great spiritual and philanthropic organization of AMMA, the internationally renowned spiritual teacher and philanthropist, organizing ecological programs and studying Eastern spiritual teachings.
In 2010, Maria Telidou started studying ThetaHealing abroad, mainly in the UK, India and the USA where she became a trainer. In 2011, for the first time in Greece, the ThetaHealing® technique was introduced in our country by Maria Telidou in a systematic and organized manner.
She created the website www.mariatelidou.gr where you can find everything about ΤhetaHealing.
Maria Telidou Co-translated and edited the manuals and the two first books of ΤhetaHealing:
The basic book " ΤhetaHealing®
The advanced book " ΤhetaHealing ®
At the same time she began to teach and present ThetaHealing technique throughout Greece. Maria now teaches all the main and some of the complementary seminars that constitute the ΤhetaHealing® technique. These are often held all year round in Athens and more periodically in other cities: Thessaloniki, Heraklion, Paros, Rhodes, Kalamata, Nicosia, Patras, Mykonos, Santorini
Maria Telidou participates annually in Exhibitions all over Greece, Festivals and radio or TV shows, presenting the ThetaHealing technique and lecturing. She has set up her "Theta InnePlace" School in Glyfada, Athens to teach ThetaHealing.
ΤhetaHealing has become popular in Greece because it is efficient and easy. Maria believes that all of us, we are the only healers of ourselves and we can bring all the areas of our lives under our control by experiencing what our soul really wants and it is the best for our evolution. This is only possible when we get to know all our full potential and ΤhetaHealing technique does exactly that: brings us to this level of Self-awareness. Maria experienced herself, through ΤhetaHealing, tremendous benefits, grace and positive changes in her life, and she is delighted to share this knowledge.
In August 2013, after three consecutive years of study, Maria obtained the diplomas "Master" and "Certificate of Science" from THINK institute. This means that in Greece for the first time, all the seminars that constitute the ΤhetaHealing technique can be taught by Maria and made available to those who are interested in continuing this journey of happiness and self-discovery.
Maria also upgrades her knowledge by studying the obligatory updatingΤhetaHealing seminars for teachers which are scheduled frequendly and which check and guarantee the quality of ΤhetaHealing teachers and their continuous development.
Together with Vianna Stibal in the award of diplomas, August 2013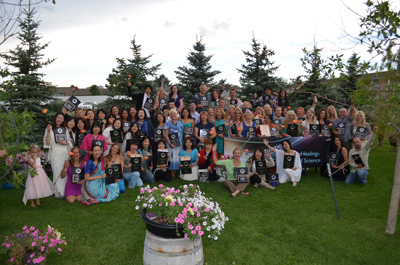 The 2013 "Certificate of Science" class at ThetaHealing® Institute, THInK, Idaho, USA
Outside of ThetaHealing Institute of Knowledge®, (THInK), August 2013
The above logos that you can confirm at www.thetahealing.com are the certifications that Maria Telidou holds the ThetaHealer®, ThetaHealing® Master and ThetaHealing® Certificate of Science certifications and is a ThetaHealer® and ThetaHealing® Instructor.
Maria's Telidou training at THInK® institute with Vianna Stibal
Maria Telidou and the Νοn Violent Communication method:
At the same time, Maria Telidou also studies the technique of "Non Violence Communication", which became another dream of hers and believes that its implementation in all areas of our everyday life will also bring love and harmony among the people.
Maria has been trained in NVC since 2011, and since 2016 she has begun the three-year process of official certification by the CENTER FOR NONVIOLENT COMMUNICATION, CNVC, by Marshall Rozenberg to become a trainer.
In 2016-2018 taught her first seminars and often participates in exhibitions and festivals presenting NVC and delivers presentations and seminars in cities in Greece such as Athens, Paros, Crete, Thessaloniki.
Maria's Trainings so  far:
Basics of NVC – 2012 – 2014, with Giorgos Tsitsirigos
NVC in mediation – Greece, 4 days, February 2015, with Robert Κrzisnik
NVC for couples and families – Greece, 2 days, 20-23 February 2016 with Gundi and Frank Gaschler
International Intensive training – Czech Republic, 9 days, 4-13 November 2016, with Frank Gaschler, Anna Mills, Kathleen Macferran, Robert Krzisnik
International Intensive training – Greece, 9 days, 13-22 Octomber 2017, with Gina Lawrie, Robert Krzisnik, Jeff Brown, Monica Reu
Teachers candidate training, Munich, 4 days, with Frank Gaschler and 4 other trainers
Maria's other certificates and studies:
Physical Education and Sports Teacher,  University of  Athens – Greece, 1988 – 1992
 
International society of Thai Yoga Massage, Beginners course 90 hours by Laurino Betrelli, Kerala-India, 2010
International society of Thai Yoga Massage, Advanced course 45 hours by Laurino Betrelli, Kerala-India, 2010
Authentic Traditional Thai Yoga Massage, Sunshine Network, Basic course 50 hours, by Dayalou D'Alwin, Barcelona – Spain, 2010
Authentic Traditional Thai Yoga Massage, Sunshine Network, Basic course 50 hours, by Takis Economou,  Evia – Greece, 2011
 
Part 1 for the Birthlight diploma in perinatal Yogacise, Birthlight Institute,  Evia- Greece, 2010
VortexHealing, www.vortexhealing.com , 2010
Vicky Ross Training, Advanced Hypnotherapy practitioner, Athens Greece, 2012
The school of Gastronomy, Fast  and Vegan seminar by Nikos Gaitanos, Athens – Greece, 2018
Subscribe to our newsletter
Join our mailing list to receive our news.